WEBINAR: Using Your Process Data to Solve Quality, Downtime, and Production Problems
February 21, 2019 at 11:00AM–12:00PM EST
Webinar via Zoom
FREE for SPE Members
Non-Members: $199
Summary
As Industry 4.0 gains momentum in the plastics industry, many are calculating the risk-reward ratio of becoming early adopters. To truly understand the urgency of starting your Industry 4.0 project, consider what you're losing by not innovating, specifically: the cost of poor quality, downtime, and competitiveness.
In this session, you will learn why the process data and analytics provided by Industry 4.0 solutions are the most important part of industrial automation and how they can help you solve your production problems.
Willem Sundblad will give an update on the current Industry 4.0 landscape, where the market is heading, and what concrete solutions look like for plastics manufacturers in addition to demonstrating how machine learning algorithms can and are being used by manufacturers.
Learn about the relationship between smart industrial automation and Industry 4.0
Gain a complete understanding of Industry 4.0, Artificial Intelligence, and Machine Learning and what it means for plastics manufacturers
How Industry 4.0 solutions leverage your process data to increase output by 20% and decrease total scrap by 50%
Discover how to launch your organization's Industry 4.0 journey
About the Speaker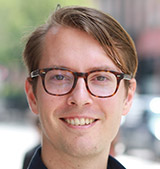 Willem Sunblad is the founder and CEO of Oden Technologies, an Industrial Internet of Things company offering wireless and cloud-based tools for manufacturers to analyze and optimize production. Willem studied Industrial Engineering specialized in production at Lund University and Ecole Centrale Paris. Most recently, Willem was named as one of Forbes 30 Under 30 Europe for his work in transforming the manufacturing industry and is a contributor for Forbes.com, where he writes on the future of manufacturing. Willem is also a Plastics News Rising Star and the 2018 winner of the Anders Wall Award for Exceptional Entrepreneurship.