2018 TRAVEL AWARD WINNERS
It is with great pleasure that I announce the travel award winners for 2018: Connor Armstrong from the University of Maryland and Zhaogui Wang from Baylor University. Connor is presently striving for his Master's degree as he studies the orientation behavior of carbon microfibers in 3D printing through divergent dies as well as self-healing thermoplastic composites, while Zhaogui plans to get a PhD as he models various fiber orientation models combined with different matrix constitutive algorithms including complex viscoelastic matrix models.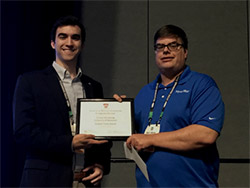 Connor Armstrong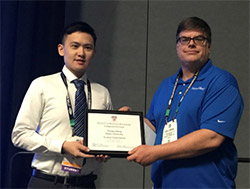 Zhaogui Wang
I enjoyed meeting both of them, and I wish them continued success in their endeavors.
Respectfully Submitted,
Dr. Dale A. Grove
Composite Division Awards Chair