EXHIBITOR/SPONSORSHIP INFORMATION
The South Texas Section of the Society of Plastics Engineers (SPE), in partnership with the Polymer Materials and Additives (PMAD), the Thermoplastic Materials and Foams (TPM&F) Divisions of SPE, is sponsoring the upcoming International Conference on Polyolefins 2019 to be held February 24, 2019 through February 27, 2019 at the Hilton Houston North Hotel, Houston, Texas.
Booth Fees
Coffee Break Court
(Booths #13-36)( see layout)
$4250
Regular Booth Space
(Booths # 9-12, 37-62)
$3450
Entry Way Booths (# 1-8)
$2450
In return for this fee each exhibitor will receive the following:
Booth space of 8 feet x 10 feet.
Identification sign 7 inches x 44 inches (one line).
Six-foot blue skirted table.
Two chairs.
110-volt electrical connections.
One wastebasket.
Exhibit space for two days (2/25/19 and 2/26/19).
Two (2) Exhibitor Badges plus a discounted rate for extra badges.
Full Admission to all conference sponsored activities including lunch meals for two (2) exhibitors.
Free Wi-Fi for all exhibitors.
Arrangements for 220-volt electrical connections or telephone lines for each booth should be made through the Hilton Greenspoint Hotel (281-875-2222). Arrangements for incoming and outgoing shipment of booth materials should be made through Freeman Company.
Exhibit Floor Map

View Map
Set Up Time
The Exhibition Hall will be available for set up only Sunday, February 24,2019 from 1:00 p.m. to 5:30 p.m. (CST). There will be no exceptions!!! All booths must be set up before the our first mixer that will begin at 6:30 p.m. (CST) in the booth area.
The Exhibition Hall will be open for visitors on Monday, February 25nd and Tuesday the 26th, from 8:00 a.m. to 5:00 p.m. (CST). The Exhibition Hall will close immediately after the end of the afternoon session on Tuesday evening the 26th. All exhibitors must disassemble their booths and remove their shipping containers on Tuesday evening after the close of the exhibits. Freeman Company will disassemble the exhibit area starting at 5 p.m. (CST) on Tuesday, February 26th.
Credit card payments will be accepted. Please make checks payable to, Polyolefins 2018, and mail them to the following address: Polyolefins 2018, Attn.: Janell Helton, 2915 Aspen Park Lane, Houston, TX 77084
All questions should be directed to Exhibit Chair, Kevin Alexander, (281) 701-7792. Emails may be sent to kevin@kwatech.com
New Sponsorship Opportunities for 2019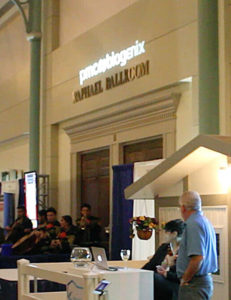 Go-Bot Sponsorships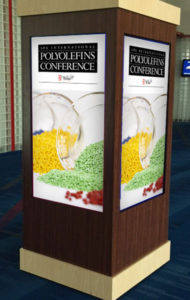 TV Kiosk Sponsorships
All questions should be directed to Richard Keeler: +1 832.239.0228 richardk@kisuma.com.
THANKS TO ALL OUR 2018 SPONSORS
PLATINUM SPONSOR
PMC Biogenix
SILVER SPONSORS
ALBEMARLE®
BASF
RIBELIN
SPONSORS
BORAL® Resources
Brabender Technologie
DOVER Chemical Corporation
IMIFABI
NFM
Saudi Aramco
Struktol
Vanderbilt Chemicals, LLC
2018 EXHIBITORS
3M
Addivant
AkzoNobel Polymer Chemistry
Arkema Inc.
BASF
Boral Resources LLC
BRABENDER TECHNOLOGIE INC.
Buss Inc.
BYK USA
C.W. Brabender Instruments, Inc.
Chemtrusion Inc.
Chitec Technology Co., Ltd.
Cimbar Performance Minerals
Clariant
Coperion
Corbion
Corporacion Sierra Madre
Daikin America
Dover Chemical Corporation
DuPont Nutrition & Health
ENTEK
Evonik Corporation
FDC, Lees Chemical Industry Co., Ltd.
Fine Organics
GEMCO Pelletizing Dies & Machining
Göttfert
Huber Engineered Materials
Imerys
Imerys Talc
IMI FABI S.P.A.
Ingenia Polymers, Inc.
Japan Polypropylene Corporation
JSW America
Kisuma Americas, Inc.
Kraton Polymers LLC
Leistritz
Lintech International
MAAG Americas
Maroon Group LLC
METTLER TOLEDO
Milliken & Company
NFM / Welding Engineers, Inc.
NJC America Inc.
Norac Additives
Omya, Inc.
PCC Chemax, Inc.
Pelletizer Knives, Inc
PMC Biogenix
Polymers Center of Excellence
Solvay
Specialty Minerals Inc.
Struktol Company of America
Sulzer Chemtech
Sumitomo Chemical America, Inc.
Suqian Unitechem
Thermo Fisher Scientific
Tomark Industries, Inc.
Unimin Corporation
Vanderbilt Chemicals, Llc
Zeppelin Systems USA