Large printed water drainage parts would speed repairs and cost less than conventional versions
By Geoff Giordano
Large-scale 3D printing is being evaluated to repair water-diverting highway culverts, according to Sunil Bhandari of the University of Maine, speaking in a virtual ANTEC® presentation on May 10. An experimental culvert diffuser will be installed in Maine in July and tested in October when the autumn rains arrive.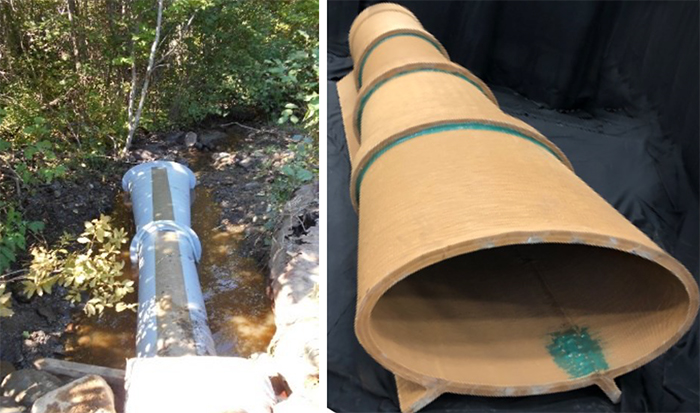 A conventional glass fiber-reinforced culvert diffuser (left) and an experimental 3D-printed version developed at the University of Maine. Courtesy of Sunil Bhandari/University of Maine
Failing highway culverts are costly not only in manufacturing and installation, but traffic interruptions. Diffusers can be used to rehabilitate culverts to maintain water flow.
"Culverts are usually rehabilitated by the slip lining process, which reduces the cross-sectional area and consequently reduces the discharge of the culverts," Bhandari explains in an interview. "Culvert diffusers are used to increase the discharge via the venturi effect and hence compensate for the reduction in discharge capacity of the culverts due to the rehabilitation process."
Current culvert diffusers are made with glass fiber-reinforced epoxy, says Bhandari, a PhD candidate in the university's Civil and Environmental Engineering Department. By 3D printing diffusers, customized devices featuring geometries that conform to unique culvert dimensions and site conditions can be produced at far less expense, without the need for molds.
There are, however, some process-related issues. "Large-scale 3D printing has very high extrusion rates," but "the feedstocks are usually pellets … which makes retraction operations more difficult and seams at the start and end point of material deposition more prominent." It also takes longer for a layer to cool down enough to support the layer above.
Using the large-scale printer at the university's Advanced Structures and Composites Center, Bhandari built an 8.5-foot-long by 2.5-foot-wide diffuser in four segments using a PLA (polylactic acid)/wood composite material. (The printer's build area is 60 feet long by 22 feet wide by 10 feet high, with four heating zones.) The experimental diffuser features a round end connected to the failing culvert's outlet and liner, while the opposite end has a flared opening 30 inches wide.

The four segments were printed in 8 hours, 41 minutes, totaled 410 pounds and were joined with Ashland's Pliogrip 7770 urethane adhesive.
"The plan is to install the culvert diffuser at the Thorndike site in Maine during the dry season in July," Bhandari says. "The performance of the diffuser will be measured during the wet season in October, when rainwater will increase the flow in the stream."
Dialing in the optimal parameters for executing the project, Bhandari notes:
Layer times of 2 minutes, 30 seconds were not long enough to cool the material sufficiently to support the layer above, and layers collapsed. Layer times were increased to 4 minutes, 45 seconds.
Extrusion temperature was increased to 207°C from 200°C, resulting in a smoother surface finish.
Ultimately, a successful diffuser was printed for $2,500; a traditional glass fiber-reinforced diffuser costs $5,110. Bhandari asserts that extrusion rates can be tripled with existing equipment.
View on demand: Bhandari's presentation "Large-Scale Extrusion-Based 3D Printing for Highway Culvert Rehabilitation" will be available on demand to ANTEC® attendees and those who register for access after the conference.