Advances in chemistry improve film recyclability, precision of automotive parts and even asphalt
By Geoff Giordano
From flexible and rigid packaging to mobility and roads, the boundaries of ethylene polymers are poised to expand and create more sustainable options for everyday uses, according to Dow research presented at ANTEC® 2021 on May 6.
Jian Wang, research scientist for packaging and specialty plastics, illustrated the competitive advantages of machine direction orientation (MDO) technology for PE films. The goal: replace non-recyclable films featuring many layers with simplified films tailored to circular economy goals while retaining package performance.
Tenter frame production systems and MDO blown, printed PE webs enable single-material packaging, Wang explained, with film being stretched four to five times original length. PE alone can be made to deliver performance—high gloss, clarity, stiffness and heat resistance with sufficient barrier protection—and recyclability.
Furthermore, "blocked" MDO films improve manufacturing ease, while "unblocked" MDO films emphasize end-use functionality, resulting in robust and recyclable standup pouches. Blocked films feature three layers, with HDPE in the outer layer, MDPE or HDPE in the core for stiffness, and a final layer of LDPE. Putting this film through the MDO loader results in a single layer of stretched film. Unblocked MDO films feature HDPE outer layers, two inner layers of MDPE or HDPE for stiffness and optical properties, and a core of LLDPE for toughness and clarity.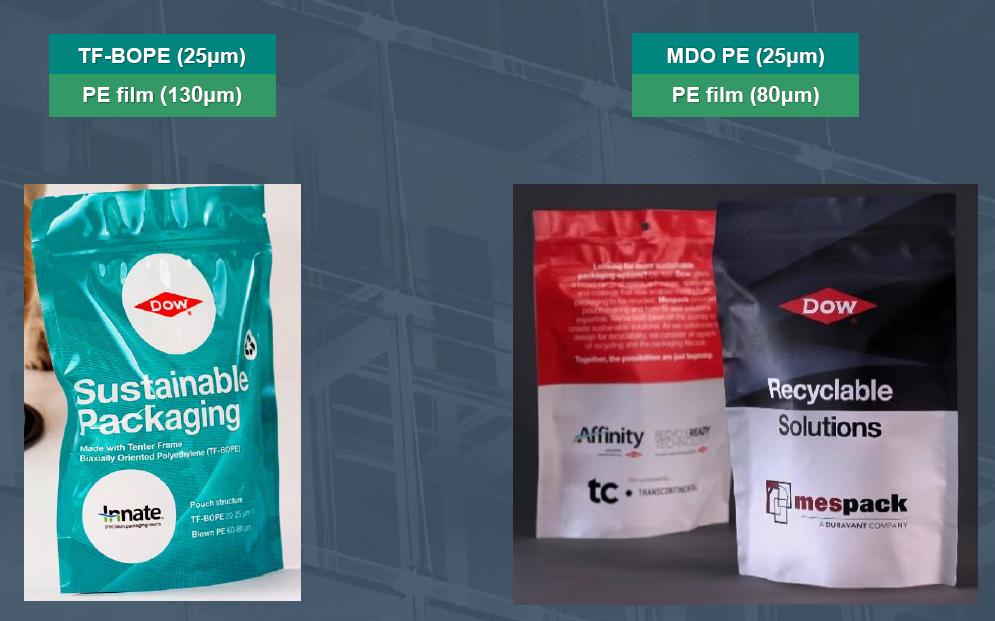 Recyclable standup pouches can be achieved with PE alone in tenter frame or blown film lines. The pouch at left is a laminate of tenter frame biaxially oriented PE and PE, with no shrinkage. The pouch on the right uses PE with MDO. Both pouches are fully recyclable. Courtesy of Dow
For rigid packaging, Wang noted that consumer expectations, including the rigors of e-commerce, have resulted in an innovative PE closure resin called Evercap that can replace PP and satisfy the desire for mono-material packaging. This Dow resin approaches the same shrinkage performance as PP. And, in a six-foot drop test at 40°F, a PE closure on a 34-ounce ketchup bottle dramatically outperformed a PP enclosure, which was devastated by the fall.
Fabricio Arteaga Larios, application development leader for packaging and specialty plastics, discussed non-packaging applications of ethylene polymers. In automotive, metal replacement with TPOs featuring unique molecular architecture pays off in many ways, from weight and battery size reductions to dent resistance and design freedom, as well as tooling cost reductions, need for fewer parts and smaller plant footprints. The result: models made in quantities of less than 100,000 become economically viable, and vehicles last longer.
At least one innovative polymer architecture, Infuse resin, "pushes the boundaries between melt temperature and glass transition temperature" in comparison with traditional polyolefin elastomers. A notable opportunity for such resins is the ability to maintain a proper gap between fender and door panels under various temperature conditions.
Lastly, recycled plastics can be locked into asphalt to prevent cracking and fatigue, again increasing performance, particularly in extreme climates, while achieving carbon neutrality goals. And, the use of reactive modifiers and post-consumer resins can reduce the thickness of asphalt roads, saving significant construction costs.
"This is a clear example where a plastics waste stream can bring value to a final application," Arteaga concluded.
View on demand: Dow's presentation "Expanding the Boundaries of Ethylene Polymers for More Sustainable Solutions," will be available on demand to ANTEC® attendees and those who register for access after the conference.