Contact: Sue Wojnicki, swojnicki@4spe.org, 203.740.5420.
During last week's ANTEC® 2018 @NPE2018 plastics technical conference in Orlando, Fla., SPE (Society of Plastics Engineers) honored plastic products that meet the ultimate test of value by making our lives better in some way.
The annual ANTEC® is SPE's largest event and the world's leading plastics technical conference. A panel of judges selected the winners of the fifth annual Plastics for Life™ Global Parts Competition from among a wide range of parts that had already won in competitions at previous SPE events during the past year. In addition, a People's Choice award was presented to the part that received the greatest number of votes from ANTEC attendees.
The award categories and winners are: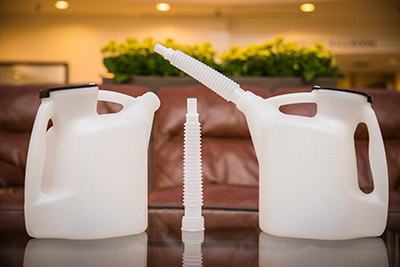 The production of this part has allowed Silgan to stay relevant even as industries aim to reduce plastic consumption. Various design traits, such as the spout, handles and mouth allow for ergonomic use and can reduce product spillage.
Competition Winner: Annual Blow Molding Conference Blow Molding Parts Competition, Industrial Category, Other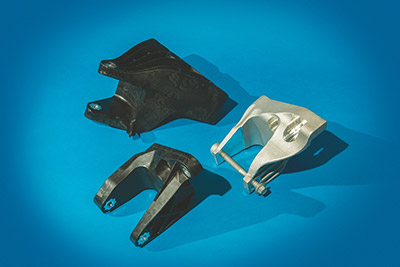 This engine clevis bracket is the first composite mount designed for a 6-cylinder engine, and passing peak loads of 25 Kilo-newtons of force. The injection molded part replaces
metallic solutions (stamping, welding and die-casting) used previously resulting in a 45 percent weight save. NVH was also improved (reduction in cabin noise) due to the damping characteristics of the polyamide compared to aluminum. Corrosion resistance is improved and the part can be recycled at end of life. Seven clevis brackets were developed for different powertrain combinations and there are no warranty claims after one and a half years of production.
Competition Winner: SPE Automotive Division Innovation Awards Gala, Chassis/Hardware Category
The bottle is produced on a six-cavity mold run on a Nissei ASB 650 NHll machine. The new OmniPod hand hygiene dispensing system is not only new in the commercial category, but uniquely different from competitor's dispensing systems. This design turns the traditional hygiene dispensing systems "inside out."
OmniPod Dispensing system has significantly less components compared to other systems
Four components: Bottle, Holder, Handle, and Dispenser
Fewer parts/less materials/less complexity
Lower cost of assembly
Showing the product alerts the user of the fill level
The Brand is displayed on the front panel of the bottle
Inverted bottle dispenses 100 percent of sanitizer and soap content
Easily replace empty bottle with 100 percent recyclable refill bottle
Competition Winner: Annual Blow Molding Conference Blow Molding Parts Competition, Packaging Category, Pharmaceutical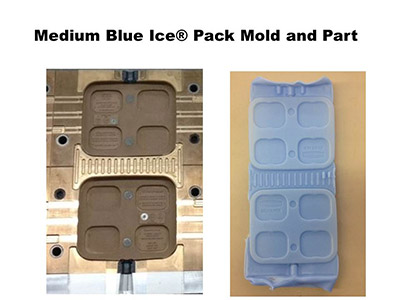 Medium Blue Ice® Pack works with Rubbermaid's LunchBlox® Containers. Food stays cool using the modular containers that snap together in multiple configurations to the Blue Ice® Pack.
Article had been produced in single cavity molds with side needle blow Consistency issues with port/fill-hole formation, formation of seat for plug weld, and low volume output
Part was developed and designed so a top and bottom calibration blow method could be used to improve the part quality and production output for an overall cost savings goal
Unit mold development and sampling was done at FGH Systems to test the port hole relocation of the part, mold ejectors for part, and process control to prove out the concept before going into production
A Uniloy-Milacron UMS 16.D shuttle machine, W. Muller extrusion head, and FGH production mold and tooling turnkey package was supplied to Rubbermaid for in-house production
Calibration of the port hole formation greatly improved the hole quality and process efficiency
Top and bottom calibration proved to be highly successful in operation and efficiency, providing higher cavitation, and output
Lower-cost machine size, higher output, and efficiency was a cost savings
Mold cooling design improvements and process methods reduced the cycle time by 10 percent
The parts are completely deflashed in the machine and placed via robot on a common conveyor belt: no secondary operation is required to the blow molded part
Very good extrusion head control, despite the parison length, achieves weight consistency of 0.5 grams between upper and lower parts
Commercially the shuttle machine can be used for standard Rubbermaid blow molded containers. In the future providing complete versatility, flexibility, and with very minimal impact during the mold and tooling changeovers between current unique mold and future standard molds
Competition Winner: SPE Annual Blow Molding Conference Blow Molding Parts Competition: Packaging Category, Food