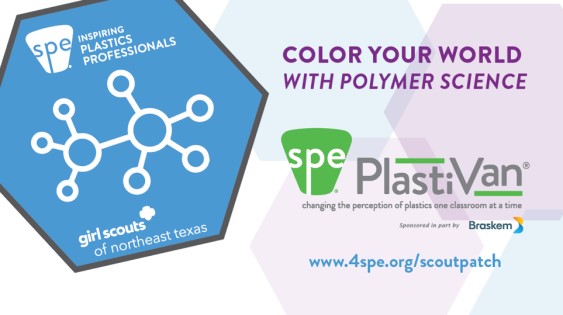 The SPE Foundation and the Girl Scouts of Northeast Texas have created an exciting new program to help girls understand the importance of plastics in our modern lifestyle. We hope to inspire them to become engineers and scientists and to join us to solve problems and create innovative materials and products to make the world a better place. Color Your World with Science, a science and engineering event, took place at the Girl Scouts of Northeast Texas STEM Center of Excellence in Dallas, TX, on Saturday, September 24th from 9:00am – 5:00pm CT.
Data shows that girls who are scouts are more likely than girls who are not scouts to become science, technology, engineering, math (STEM) professionals with leadership aspirations. The plastics industry will greatly benefit from women who understand the benefits we enjoy and challenges we face.
This kick-off event provided more than 200 Girl Scouts the opportunity to earn the newly released SPE Polymer Science Patch (www.4spe.org/scoutpatch), achieving a STEM seal of approval. During the event, Girl Scouts and their families saw first-hand how polymer scientists and engineers are improving the world around us by developing new materials to make items like shoes, medical equipment, bike helmets, car parts, and more. Scouts also molded their own plastic items as they learn about basic color theory and how it's integrated into plastics.
The event also featured Keynote Speaker and plastics professional, Mercedes Landazuri, IDSA, CMG, Director of Technology & Innovation at Peacock Colors & Vortex Liquid Color, who presented in both Spanish and English to help celebrate Hispanic Heritage Month.