Contact: Chris Barry, cbarry@4spe.org, +1.203.740.5414
DANBURY, CT—June 22, 2020: SPE is pleased to announce Barry Morris, Ph.D., as Chair for the Council Committee of the Whole (CCOW). The CCOW consists of all current SPE Councilors and the properly authorized proxies. The CCOW exists solely as an open forum to explore ideas, projects and concerns of the membership; and to discuss and debate issues of interest to the Council. The CCOW Chair position's term begins on July 1 and will run for one year.
About Barry Morris
Barry Morris, Ph.D. – Chair, Council Committee of the Whole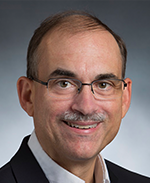 Barry Morris is a R&D Fellow in the Packaging and Specialty Plastics business of the Dow Chemical Company with over 35 years of experience in the plastics industry. He started his career at DuPont and recently moved to Dow with the merger, reorganization and subsequent spin-off of these companies. He has held a variety of technology and research positions supporting DuPont/Dow's specialty ethylene copolymers business.
Morris has been an active member of SPE since 1992, a Fellow since 2005, and a frequent contributor to ANTEC® and other SPE conferences with over 100 industry-wide publications, including a recently published comprehensive text on flexible packaging. He has been on the board of the Extrusion Division since 2002, was chair from 2010-2011, and is currently councilor.
Morris was involved in the formation of the Flexible Packaging Division, has been a member of its board of directors since its inception, and was chair from 2016-2017. He has been active in developing technical program content for ANTEC® and FlexPackCon®.
Morris received a Bachelor of Science degree in chemical engineering from the University of Virginia and a Ph.D. from Princeton University. He also has an MBA from the University of Delaware.
More information about SPE the Council Committee of the Whole can be found at www.4spe.org.
###
SPE-Inspiring Plastics Professionals is 84 countries and 22,500+ members strong, SPE unites plastics professionals worldwide–helping them succeed and strengthening their skills through networking, events, training, and knowledge sharing. No matter where you work in the plastics industry value chain-whether you're a scientist, engineer, technical personnel or a senior executive-nor what your background is, education, gender, culture or age-SPE is here to serve you. Web: www.4spe.org Phone: +1.203.740.5400.