Moderated by Conor Carlin, SPE VP, Sustainability
April 13, 2021; 11am-noon EST
Cost
| | |
| --- | --- |
| SPE Members: | Free |
| Nonmembers: | $149 |
FREE Educational Webinars. Just another great benefit of being an SPE Member.
Summary
Dave New, founder of Obaggo Recycling, will tell the story of his journey to bring a novel plastic bag recycling solution to the mass market. He will discuss the genesis of the idea, the trials and tribulations of prototype development, and the epic search for project support and funding. A fundamentally entrepreneurial story, Dave will talk about the world of start-up accelerators, b-plan competitions, and how he navigated a vast landscape of stakeholders, cheerleaders, and naysayers.
About the Speaker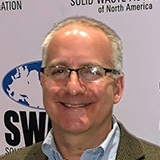 David New, Founder and CEO, Obaggo Recycling, LLC., has an MBA in Operations Management from Cornell University, and a BS in Computer Science from the University of Vermont. He has 35 years of experience in logistics systems design and implementation, and supply chain consulting, to companies like Mastercraft Boats, Thermofisher Scientific, Zippo, and dozens more. A life-long environmentalist and recycler, Dave was frustrated by his own forgetfulness and inability to properly recycle his plastic bags at the retail store bins. The idea of two separate supply chains for recycling, an inconvenient one for plastic bags, and a convenient (curbside) one for everything else, just didn't seem optimal. Obaggo was born. When not transforming polyethylene bags into pucks, he's often outdoors, climbing a mountain or hiking a trail.