Honors & Awards Ceremony also presented the Passing of the Gavel and celebrated SPE's 2021 Fellow and HSM award winners
Conor P. Carlin, SPE's VP Sustainability, was recently named as the 2021 recipient of the Society's President's Cup Award. Dr. Jaime Gómez, SPE's 2020-2021 President, presented the award to Carlin during SPE's Honors & Awards Ceremony, which took place virtually on June 29th.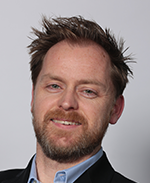 Conor P. Carlin
"Conor's dedication to SPE has been selfless and inspiring," said Dr. Gómez. "He has served as an SPE volunteer for many years. Conor is committed to focusing on and promoting the important work that is happening at the nexus of plastics and sustainability, a key driver in 21st century manufacturing. SPE has been consistently impressed by his approach and commitment to broad sustainability goals. As SPE's outgoing President, it is my privilege to especially honor Conor Carlin with the SPE President's Cup award."
Carlin is Managing Director of ILLIG LP, the North American subsidiary of ILLIG Maschinenbau GmbH & Co., a Germany-based designer and manufacturer of thermoforming, tooling, and packaging systems. A member of Society of Plastics Engineers since 2000, he serves as editor for SPE Thermoforming and Recycling Division publications. Carlin has contributed articles on plastics and sustainability for international industry press in the US, Europe, and Asia. In 2017, he was elected to the SPE Executive Board as VP of Marketing and Communications, and re-elected in 2020 as the first VP of Sustainability. For 10 years he was an active mentor to cleantech startups in the Boston-Cambridge area, focusing on energy efficiency and biofuels. Carlin has a BA from Boston University and an MBA from Babson College. Carlin is editor and co-author of Plastics and Sustainability: Grey is the New Green: Exploring the Nuances and Complexities of Modern Plastics (2nd Edition), which was published by Wiley in April 2021.
"This is a wonderful honor," said Carlin. "I am grateful to so many great colleagues over the years from my first meetings of the Thermoforming Division to the SPE Foundation and now to the Executive Board. I'm looking forward to the next chapter of SPE volunteerism as sustainability becomes central to much of our work."
The SPE President's Cup was first awarded by Peter Simmons in 1958 and continues to be awarded each year by the SPE President for outstanding and meritorious service to the Society. This honor is decided solely by the SPE President.
In addition to announcing the President's Cup, SPE's Honors & Awards Ceremony also celebrated the recipients of the 2021 Honored Service Members (HSM) Award and the Fellow of Society Award. These award winners were previously announced in February.
The 2021 HSM honorees include:
Adrian Merrington, Ph.D., M.R.S.C., C.Chem, C.Sci, Business Quality Leader, Trinseo. He was nominated for the award by the SPE Detroit Chapter.
Robert Weiler, North America Sales Manager and Product Line Manager for Non-Halogen Flame Retardants, Amfine Chemical Corporation. Weiler was nominated for the award by the SPE Akron Chapter.
The 2021 Fellow of Society Award honorees were:
Dr. Umesh Gandhi, Executive Scientist, Toyota Research Institute North America. Nominated by the SPE Automotive Division.
Dr. Yushan Hu, Research Scientist, Dow Packaging & Specialty Plastics. Nominated by the SPE Engineering Properties and Structure Division.
Jeffrey A. Jansen, Engineering Manager and Partner, The Madison Group. Nominated by the SPE Injection Molding Division.
Mark Lavach, Manager, North American Analytical Group, Arkema Inc. Nominated by the SPE Palisades-New Jersey Section and the SPE Vinyl Division.
Dr. Tieqi Li, Chief Research Scientist, Formosa Plastics Corporation. Nominated by the SPE Applied Rheology Division.
Dr. Manjusri Misra, University of Guelph, Ontario, Canada. Nominated by the Injection SPE Molding Division.
Dr. Gómez presented Dr. Jason Lyons with his President's Gavel and Pin. Immediately thereafter, Dr. Jason Lyons introduced the new Executive Board for 2021.
Video of the ceremony can be viewed on SPE's YouTube channel here.
More information about SPE's Awards can be found by visiting www.4spe.org/Awards.