Contact: Chris Barry, cbarry@4spe.org, +1.203.740.5414
DANBURY, CT—July 6, 2020: SPE is pleased to announce Dr. Brian Grady as recipient of the Society's President's Cup award for 2020. The award was presented to Dr. Grady during SPE's Honors and Awards Ceremony, which was presented virtually this year on June 30. Dr. Brian Landes, SPE's outgoing President, presented the award to Dr. Grady during the ceremony.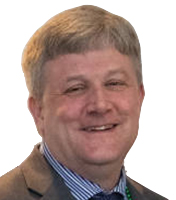 Dr. Brian Grady
"Dr. Grady's dedication to SPE has been selfless and inspiring," said Dr. Landes. "He has served as an SPE volunteer for over 20 years. He has volunteered his time and talents for everything SPE from the local chapter level through the Society's highest office. Dr. Grady is a globally recognized leader, teacher and innovator in the plastics industry. As SPE's outgoing President, it is my privilege to especially honor Dr. Grady with the SPE President's Cup award."
Dr. Grady received a B.S. from the University of Illinois in 1987, and a Ph.D. from the University of Wisconsin in 1994, both in Chemical Engineering. Since 1994, he has been employed by the University of Oklahoma as a faculty member in the School of Chemical, Biological and Materials Engineering, and is currently the Director of the School. He is also the David and Hilda Bourne Chair at the University of Oklahoma and is both a Fellow and Honored Service Member of SPE. He was a member of the Executive Committee of the Society from 2008-2012, serving as Secretary of the Society in 2010-2011. In 2018/2019, he served as SPE's President and is currently Editor-in-Chief for the SPE technical journal SPE Polymers. Dr. Grady has over 150 refereed publications in journals and books. He is also the Director of the Institute for Applied Surfactant Research at the University at Oklahoma, an industrial consortium with 12 members.
"This is a wonderful honor," said Dr. Grady. "I owe this to the many influential people who have been involved in SPE that I have had the privilege of getting to know and collaborate with over the years. I'd like to thank all the people on the SPE executive board that I have served with – they are all very special to me."
The SPE President's Cup was first awarded by Peter Simmons in 1958 and continues to be awarded each year by the SPE President for outstanding and meritorious service to the Society. This honor is decided solely by the SPE President.
In addition to announcing the President's Cup, SPE's Honors and Awards Ceremony also acknowledged the recipients of both the 2020 Honored Service Members (HSM) Award and the Fellow of Society Award. These awards were previously announced in February.
The 2020 HSM honorees included:
Mark MacLean-Blevins, Independent Product Design Consultant. Mr. MacLean-Blevins was nominated for the award by the SPE Product Design & Development Division.
Robert V. Petrach Jr., Injection Molding Operations, Safety Technology Institute. Mr. Petrach was nominated for the award by the SPE Detroit Section.
The 2020 Fellow of Society Award honorees were:
Roger W. Avakian, Owner, Avakian PolyChem Consulting LLC. Mr. Avakian was nominated for the award by the SPE Thermoplastic Materials and Foams Division.
Santosh Bawiskar, Principal Research Scientist in the Packaging & Specialty Plastics R&D Group, Dow. Mr. Bawiskar was nominated for the award by the SPE Extrusion Division.
Dr. Kurt Koppi, Senior Research Scientist, Dow. Dr. Koppi was nominated for the award by the SPE Applied Rheology Division.
Dr. Donggang Yao, Professor in the School of Materials Science and Engineering, Georgia Institute of Technology. Dr. Yao was nominated for the award by the SPE Applied Rheology Division.
SPE also inducted the new Executive Board for 2020, including the installation of Dr. Jaime Gomez as SPE's President. The 2020 SPE Honors and Awards Ceremony can be viewed on SPE's YouTube Channel and more information about SPE's Awards can be found by visiting www.4spe.org/Awards.
###
SPE-Inspiring Plastics Professionals is 84 countries and 22,500+ members strong, SPE unites plastics professionals worldwide–helping them succeed and strengthening their skills through networking, events, training, and knowledge sharing. No matter where you work in the plastics industry value chain-whether you're a scientist, engineer, technical personnel or a senior executive-nor what your background is, education, gender, culture or age-SPE is here to serve you. Web: www.4spe.org Phone: +1.203.740.5400.