In light of the current international situation due to COVID-19 (coronavirus) this main event of the European thermoforming industry has been postponed again.
The new date will be March 3-5 2021. The Starling Hotel in Geneva, Switzerland remain the venue for this event.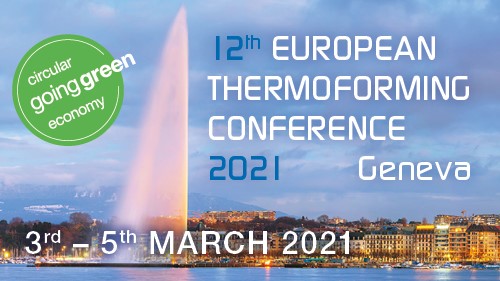 This conference, which is the sector's most important platform for information and communications between decision makers in business, non-partisan experts from the sector, leading suppliers of solutions and the related scientific community has established itself as the forum for thermoforming technology.
Presentations, discussion workshops and an exhibition – where the focus will be on dialogue – all contribute to informing the participants from Europe and USA. The theme of the conference. "Thermoforming for a Green Future" will act as a thread linking together the exhibitors, whether from the world of science, the supply sector or the applications business. The presentations will be comprehensive and all-encompassing in terms of the materials, processes and applications that they cover. More about the program can be found on www.thermoforming-europe.org.
The attendees will consist of a significant cross section of processors, end-users, material suppliers, tool makers, machine and allied equipment suppliers.
The City of Geneva provides an outstanding setting for the event and the Starling Hotel has proved to be a perfect place in which to hold such a gathering.
Information about the Conference, the Training Workshop, Sponsorship, Tabletop display and the Parts Competition may be obtained from:
Reinhold Plot / Society of Plastics Engineers / European Thermoforming Division
Email: info@thermoforming-europe.org
Website: www.thermoforming-europe.org
###
Society of Plastics Engineers European Thermoforming Division
Eric Sasselaan 51 ~ BE-2020 Antwerpen ~ Belgium Tel. +32 3 541 77 55
spe.etd@skynet.be ~ www.e-t-d.org