March 18, 2021 at 11:00am-Noon EDT
Webinar via Zoom
FREE for SPE Members
Non-Members: $199
Summary
Thermal analysis is an important group of tests used in the analysis of plastics and other polymeric materials. It consists of a family of well-established techniques that evaluate material properties as they change with temperature, time, and ambient environment under conditions of thermal programming. The results of thermal analysis tests provide qualitative and quantitative information about the material being evaluated. In particular, this information is important to address plastic failures or in characterization of the material composition and physical properties.
The upcoming webinar on thermal analysis will introduce the four primary techniques:
Differential Scanning Calorimetry (DSC)
Thermogravimetric Analysis (TGA)
Thermomechancial Analysis (TMA)
Dynamic Mechanical Analysis (DMA)
The webinar is designed to introduce the techniques to the attendees so that they may get a better understanding of how the techniques can be used to evaluate plastic materials and solve problems. No single thermal analysis technique is best suited universally, but together they provide essential data for the characterization of plastics materials. This presentation will review thermal analysis techniques and their application to plastic problem solving through case studies. The webinar will be a practical treatment of the techniques, and the focus will be on how the techniques can be utilized to better understand polymeric materials.
At the end of this presentation you will:
Gain insight into the different types of thermal analysis techniques
Recognize which technique is best suited to obtain the information you need
Understand how thermal analysis can be used to characterize the composition and properties of plastic
About Speaker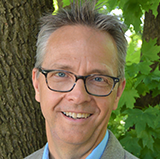 Jeffrey A. Jansen is the Engineering Manager and a Partner at The Madison Group, an independent plastics engineering and consulting firm. Jeff is a proven plastic professional with more than 30 years of experience solving problems and addressing opportunities related to polymeric materials. Jeff specializes in failure analysis, material identification and selection, as well as compatibility, aging, and lifetime prediction studies for thermoplastic materials. Jeff has performed over 5,000 investigations, both for industrial clients and as a part of litigation. Jeff is a regular presenter on the SPE webinar series, covering a wide range of topics related to plastics failure, material performance, testing, and polymer technology. Jeff is a graduate of Carroll College and the Milwaukee School of Engineering.