Honors & Awards Ceremony also celebrated SPE's 2020, 2021 and 2022 Fellow and HSM award winners
Brian Landes, SPE's President from 2019-2020, was recently named as the 2022 recipient of the Society's President's Cup Award. Dr. Jason Lyons, SPE President, presented the award to Dr. Landes during SPE's Honors & Awards Lunch Ceremony, which took place during ANTEC® 2022 in Charlotte, NC.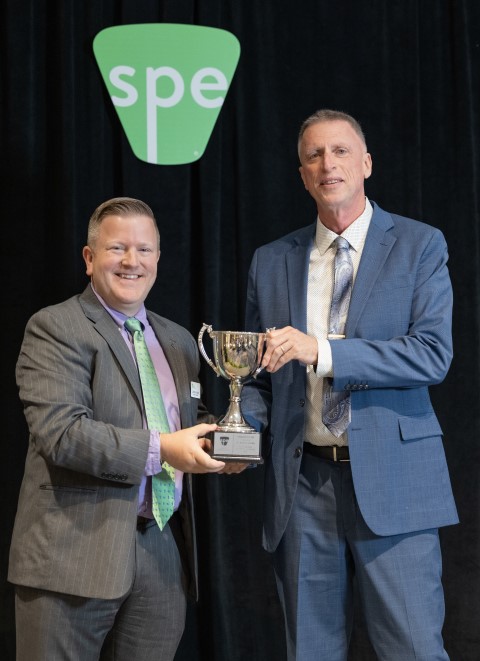 Dr. Jason Lyons and Dr. Brian Landes
"Brian's dedication to SPE has been selfless and inspiring," said Lyons. "When I think of the trait that best describes Brian, it is passion. A truly genuine passion to bring out the best in those surrounding them while attempting to make everything they touch the best version of itself possible. We can teach many things to people but passion is something you are born with and Brian has this in spades. From my first time walking into an SPE EPSDIV Board meeting, Brian inspired me to do more…to give back. He is a leading reason why I have the honor of standing before you today. As SPE's President, it is my privilege to honor Dr. Brian Landes with the SPE President's Cup award."
Dr. Landes recently retired as Technology Leader for Dow and has served in many leadership roles within SPE, including international chair of multiple SPE Divisions. Dr. Landes has also been an invited speaker to represent industry before the U.S. Senate, the U.S. House of Representatives, The Department of Energy, The National Science Foundation, and several U.S. Secretaries of Energy, spanning the Bush, Obama, and Trump administrations. He earned his bachelor's and master's of science and Ph.D. in Polymer Science from the Department of Material Science and Engineering at Pennsylvania State University.
"This is a wonderful honor," said Dr. Landes. "I am grateful to so many great colleagues over the years from my first meetings of SPE to my serving on the Executive Board. I am truly humbled by this honor."
The SPE President's Cup was first awarded by Peter Simmons in 1958 and continues to be awarded each year by the SPE President for outstanding and meritorious service to the Society. This honor is decided solely by the SPE President.
In addition to announcing the President's Cup, SPE's Honors & Awards Ceremony also celebrated the recipients of the 2020, 2021, and 2022 Honored Service Members (HSM) Award and the Fellow of Society Award. These award winners were previously announced.
The HSM honorees include:
2022
Mr. David J. Anzini, Manager of Research & Development, Celgard
Dr. Paul Gramann, President, The Madison Group
Mr. Han P. Michel, Retired
2021
Dr. Adrian Merrington, Business Quality Leader - Engineered Materials, Compounds and Blends, Trinseo
Mr. Robert G. Weiler, Retired
2020
Mr. Mark T. MacLean-Blevins, Independent Product Design Consultant
Mr. Robert V. Petrach, Jr., Retired
The Fellow of Society Award honorees include:
2022
Dr. Alper Kiziltas, Technical Expert, Ford Motor Company
Mr. William A. Kramer, President, US Extruders
Dr. Keisha Bishop Walters, Department Head and Professor, University of Arkansas
2021
Dr. Umesh Gandhi, Executive Scientist, Toyota Research Institute North America. Nominated by the SPE Automotive Division.
Dr. Yushan Hu, Research Scientist, Dow Packaging & Specialty Plastics. Nominated by the SPE Engineering Properties and Structure Division.
Jeffrey A. Jansen, Engineering Manager and Partner, The Madison Group. Nominated by the SPE Injection Molding Division.
Mark Lavach, Manager, North American Analytical Group, Arkema Inc. Nominated by the SPE Palisades-New Jersey Section and the SPE Vinyl Division.
Dr. Tieqi Li, Chief Research Scientist, Formosa Plastics Corporation. Nominated by the SPE Applied Rheology Division.
Dr. Manjusri Misra, University of Guelph, Ontario, Canada. Nominated by the Injection SPE Molding Division.
2020
Mr. Roger W. Avakian, Owner, Avakian PolyChem Consulting LLC
Dr. Santosh Bawiskar, Fellow, Packaging & Specialty Plastics R&D Group, Dow
Dr. Kurt A. Koppi, Principal Research Scientist, Dow
Dr. Donggang Yao, Professor, School of Materials Science and Engineering, Georgia Institute of Technology
More information about SPE's Awards can be found by visiting www.4spe.org/Awards.