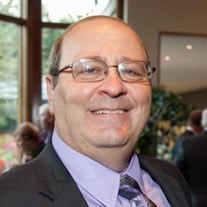 Peter F. Grelle, age 70, of West Bloomfield, MI passed away on Thursday August 11, 2022. Peter was born in Lawrence, MA on May 5, 1952, to the late Peter and Frances Grelle. Peter was a compassionate and caring man, who loved and valued his family and friendships. He graduated from Lawrence High School and held a B.S. in Plastic Technology from Lowell Technological Institute and a M.S. in Plastics Engineering from the University of Massachusetts at Lowell.
Peter joined SPE in August, 1972, and was a dedicated contributor to the Society. During the '90s, Peter was a New York Chapter member, serving as the Awards and Nominations Chair before moving to the Detroit, MI, area. He was an Injection Molding Division board member who served in just about every position and served as the Division chair from 1997-1998. He also served as the division's Technical Program Chair for 29 years, beginning in 1993 until the time of his passing. He was elected to join the Detroit Chapter Board in 2010 and immediately volunteered to serve as the Chapter's secretary. He was elected President of the Detroit Chapter for the 2013-2014 leadership year. Pete was serving as a Detroit Chapter Board member at the time of his passing.
At the Society level, Peter was nominated by the Injection Molding Division and awarded SPE Honored Service Member 2006. Peter then served on the HSM Election Committee and was served on the Awards and Recognition Team.
Peter's technical acumen helped with SPE's long-term educational efforts. He was one of the contributing authors for the SPE Technician's Toolbox, writing the chapter on "Injection Molding of Thermoplastics in Comparison to Commodity Materials." This effort was one in a long and impressive body of technical work for both SPE and non-SPE affiliations.
Peter was committed to the success of SPE's ANTEC® program and, and as an ANTEC® TPC, he led the charge for efficiently reviewing ANTEC® papers, which involved coordinating specific reviewers for specific papers. He was one of the biggest advocates in taking the ANTEC® paper submission and reviewing process completely online. When ANTEC® 2020 needed to move to a virtual event due to COVID-19, Peter jumped in as a moderator, covering multiple tracks during ANTEC® 2020's six-week period. While taking ANTEC® to a virtual platform was new to the organization at that time, Peter was a constant - always available to provide help with the highest level of professionalism, grace, and good humor.
Peter, considered one "Wicked Smart Dude" by his plastics peers, also had a love for Drum and Bugle Corps and for over 62 years, was an alumni member of the Beverly Cardinals Drum Corps. He was an avid sports fanatic, and loved traveling, music and movies. Most of all, he loved spending quality time with his family and friends.
Peter Grelle's obituary can be found here.