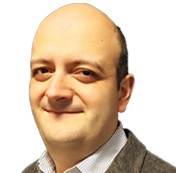 Dr. Iván Lopez
Dr. Iván D. López has been appointed as new Director of Technical Programs at SPE. In this role, Dr. López will create new virtual and in-person education events, identifying subject matter experts and growing SPE's portfolio of technical programs.
"Dr. López's established experience of working in polymer sciences will be key to developing innovative programs and educational opportunities for our members and for those in the plastics industry," said Patrick Farrey, CEO of SPE. "With his expertise in management, research and development, consulting and teaching in the polymer sciences, we are looking forward to utilizing his abilities to grow SPE's footprint in plastics education."
Dr. López earned his Ph.D. in 2009 from the University of Wisconsin-Madison with a major in Mechanical Engineering and a minor in Engineering Mechanics. He is a researcher and scientist with a demonstrated history of working in management, research and development, consulting and teaching in polymer materials, polymer processing, circular economy, sustainability, computational modeling, intellectual property, and plastics products.
Previously, Dr. López was Technical and Scientific Director at the Plastic and Rubber Research Institute (ICIPC) in Medellin, Colombia, where he obtained public and private funding to guarantee ICIPC operation and growth for 2020 and 2021, during the COVID-19 pandemic, including funds from United Nations Industrial Development Organization (UNIDO), Programa de las Naciones Unidas para el Desarrollo (PNUD), the Ministry of Industry, the Ministry of Environment, and others.
Dr. López designed and implemented research, knowledge transfer, and innovation strategies for ICIPC and plastics-related industry. He led and coordinated the research and lab team and networked successfully between ICIPC, industry, government entities and academia resulting in partnerships in research and science. Other roles at ICIPC include Technical Director, Technical Subdirector in Polymer Product Development, and Research and Teaching Assistant.
Dr. López's research production includes three patent applications, two design patents, six software tools, more than 50 publications in scientific journals and conference proceedings and was lead researcher in more than 15 scientific projects.
"Educational programs are an important factor leading to the success of the society's overall growth, particularly when it comes to professional development for SPE's members," said Dr. López. "I am looking forward to working with SPE's staff, Executive Board and membership to achieve the society's educational goals."
Dr. López's started with SPE on October 1st.
#####
About SPE
Together we can form your future. 84 countries and 22,500+ members strong, we unite plastics professionals worldwide – helping them succeed and strengthening their skills through networking, events, training, and knowledge sharing. For more information, visit www.4spe.org.