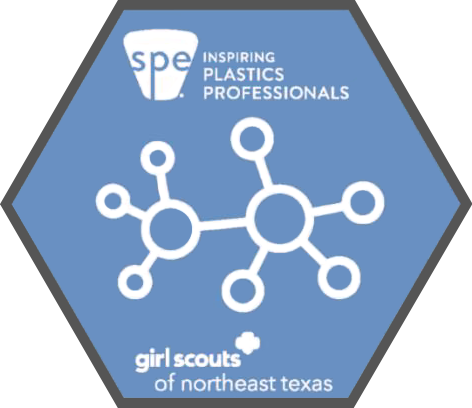 Giving Tuesday Campaign Advances Support of SPE Girl Scout Patch Program
In collaboration with the Girl Scouts of Northeast Texas, the SPE Foundation has created its first SPE Color Your World with Polymer Science Girl Scout patch. Data shows that girls who are scouts are more likely than girls who are not scouts to become science, technology, engineering, math (STEM) professionals with leadership aspirations.
The newly released patch was introduced during Color Your World with Science, a science and engineering event, which took place at the Girl Scouts of Northeast Texas STEM Center of Excellence in Dallas, TX, on Saturday, September 24th. More than 200 Girl Scouts earned their patch and saw first-hand how polymer scientists and engineers are improving our world by developing new materials to make items like shoes, bike helmets, car parts, and more.
"Our goal with the Girl Scouts patch program is to inspire girls to become engineers and scientists and to help solve problems and create innovative materials and products to make the world a better place," said Eve Vitale, Chief Executive, SPE Foundation. "The plastics industry will greatly benefit from women who understand the advantages we enjoy and the challenges we face – particularly when it comes to plastics."
This upcoming Giving Tuesday (November 29), the SPE Foundation is inviting support for its Girl Scouts patch program to help bring this patch to more Girl Scouts and to create a second patch focused on Biopolymers and Sustainability. The first $10,000 in gifts will be matched by the SPE Automotive Division.
"Girl Scout councils across the country want our patch program but it costs thousands of dollars at the expense of the SPE Foundation," said Vitale. "Through donations, our goal is to raise $25,000 to ensure more Girl Scouts can learn about the wonders of polymer science and engineering. Donations pave the way to help us share the exciting world of polymer science with young aspiring female STEM leaders. Let's show the Girls Scouts that we support their future in STEM and that we're focused on positive plastics education."
Donations for the SPE Foundation Girls Scouts patch program can be made before Giving Tuesday by going to give.4spe.org.
#######
About the SPE Foundation
The SPE Foundation supports the development of plastics professionals by funding quality educational programs, grants, and scholarships emphasizing science, engineering, sustainability, and manufacturing while working to create inclusive opportunities for students around the world.
About SPE
SPE-Inspiring Plastics Professionals is 84 countries and 22,500+ members strong. SPE unites plastics professionals worldwide–helping them succeed and strengthening their skills through networking, events, training, and knowledge sharing. No matter where you work in the plastics industry value chain-whether you're a scientist, engineer, technical personnel or a senior executive-nor what your background is, education, gender, culture or age-SPE is here to serve you. Visit www.4spe.org.