September 9, 2019 at 5:30 p.m.
Summary

The presentation by NOVA Chemicals will include an overview of the production of polyethylene from raw materials through conversion and will cover how NOVA Chemicals is leveraging their resources to promote sustainability and support the plastics circular economy. The company recently announced enhanced long-term sustainability commitments, furthering their mission to be the leader in innovation that enables its customers to deliver plastic products that make everyday life healthier, easier and safer.
About the Speaker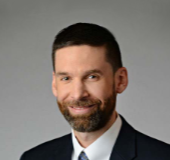 Doug Biela is the Rotational Molding Market Manager for NOVA Chemicals, a leading producer of polyethylene in North America. In his 20-year career in the petrochemical industry, Doug has held a variety of operational and commercials roles including Operations Leader and Commercial Support Team Leader. He is a graduate of West Virginia University with a BS in Chemical Engineering. Doug lives with his wife and children in the Pittsburgh area.
Location
Nova Chemicals
Hilton Inn
3180 West Market Street
Akron, Ohio 44333
Cost
| | |
| --- | --- |
| General - Professional | $30 |
| Retired | $25 |
| Student | $10 |
| New Member | first meeting Free |
Contact
Reservations must be in by noon on Friday, September. 6 and can be made to Gary Taylor at +1 330.419.4380 or akronspe1@gmail.com Be sure to include your company affiliation and dietary restrictions.
Schedule
| | |
| --- | --- |
| Social / Networking / Bar | 5:30 p.m. |
| Dinner | 6:00 p.m. |
| Program | Following dinner |
Cpoyright & Permission to Use
Photographs and audio/video recordings may be taken during the conference, pre-conference meetings and receptions that may include attendees within sessions, networking areas, exhibition areas, and other areas associated with the conference both inside and outside of the venue. By registering for this event, all attendees are providing permission for SPE to use this material at its discretion on SPE's websites, marketing materials, and publications. SPE retains ownership of copyright to all photographs and audio/video recordings obtained at this event and attendees may request copies of any material in which they are included.