We recognize the importance of having your published articles easily accessible and shareable, and we are pleased to inform you of the various article sharing and open access options now available via our partnership with Wiley. As an author, you have access to these options through your Wiley Author Services dashboard. Register for Wiley Author Services and add your article manually to your dashboard to access your options.
1. Content Sharing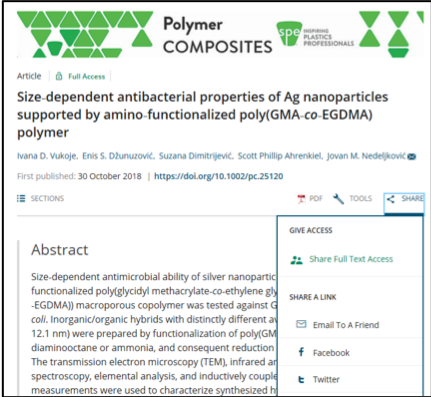 Wiley offers our authors the ability to share a read-only full version of their published articles via a unique link that can be generated using the article DOI.
Top reasons to use Wiley Content Sharing:
Share with anyone — The link can be shared with an unlimited number of people
Share anywhere — Post the link on social media channels (including ready links to Facebook, Twitter, LinkedIn, Google+, and Reddit), institutional repositories, author websites, or SCNs (Scholarly Collaboration Networks) that have signed the STM sharing principles
Share with ease — Readers simply click the link to view the article in an Enhanced PDF format
You can get the link here (please have your article DOI ready).
In addition, if you already have a subscription to any of the SPE publications, you can now share any of the articles (regardless of authorship) with your peers by using a similar Content Sharing method. You can find instructions for that here.
2. Article Share
Article Share allows you to invite up to 10 colleagues to receive unlimited free access to your paper.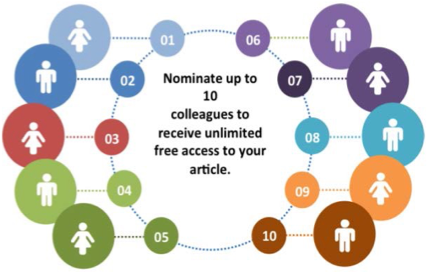 Top reasons to use Article Share:
Share rapidly – The article is automatically shared as soon as it publishes online
Share effortlessly – Nominate up to 10 individuals, and the service does the rest of the work for you
Share strategically – Hand-select influential colleagues who can help create impact for your research
You can find information on Article Share here.
3. Gold Open Access
SPE also offers peer-reviewed journal authors an open access option called OnlineOpen, to make your article freely available to everyone, including nonsubscribers, immediately upon publication. To cover the cost of publishing OnlineOpen, authors pay an article publication charge (APC) of $3,000 US.