WEBINAR: Materials for Medical Applications
December 13, 2018 at 1:00PM–2:00PM EST
Webinar via Zoom
Sponsored by the SPE Medical Plastics Division
FREE for SPE Members
Non-Members: $199
Summary
Development of novel polymer systems has led to several innovations that have profoundly influenced the future of medicine. Polymers are widely used in many medical devices for short-term and long-term applications and the properties of these materials must be tailored for the intended use. There is always a need to modify existing materials or develop new materials to meet the challenging demands of new medical devices. The presentation will provide an overview of the selection criteria of materials that are used for medical applications, and examples will include materials that are used in cardiovascular, orthopedic, surgical and drug delivery devices.
Biography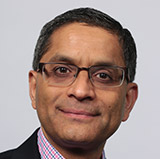 Dr. Vipul Davé is currently a Senior Research Director and Fellow, and Head of the Self Care Technology Group at Johnson & Johnson Consumer Inc. In this role, Vipul leads the technology organization and develops new technologies and capabilities internally and through external partners.
Vipul joined J&J in 1996 and has previously held various positions within the Consumer and Medical Device sectors of the company. Prior to that he worked at Warner Lambert. Most recently, Vipul was responsible for leading the Self Care Technology effort in the development of novel delivery systems and for the conception and design of consumer insight driven novel oral pharmaceutical dosage forms. Vipul has been working closely with strategic partners on the assessment, development and customization of innovative and proprietary materials.
Vipul holds a PhD in Materials Engineering Science from Virginia Tech, Blacksburg, VA and an MS in Polymer Science from the University of Massachusetts, Lowell, MA. Vipul is an inventor of over 28 granted US patents and 46 US patent applications, authored over 30 peer reviewed publications in journals and books, and presented over 70 papers at technical conferences in the fields of polymers, drug delivery, medical devices and material science & engineering. Vipul was elected as a Fellow of the American Institute for Medical and Biological Engineering's (AIMBE) College of Fellows in 2013; and as a Fellow of Society of Plastics Engineers in 2017.
About The SPE Medical Plastics Division
The SPE Medical Plastics Division exists to encourage the interchange of technical and regulatory information on the polymer materials/components used in medical devices and in device containers among the scientists and engineers who are working in medical device and related industries.