WEBINAR: Sandwich panel design and thermoplastic honeycomb technology overview — extending the weight and cost reduction opportunities
May 14, 2019 at 11:00AM–12:00PM EDT
Webinar via Zoom
FREE for SPE Members
Non-Members: $199
Summary
The seminar aims at review of available sandwich panel technologies, with the focus on configuration with thermoplastic honeycomb core being accepted in more and more applications today. The principles and benefits of sandwich panel design will be presented, along to post-processing techniques and examples of applications starting from a lower end of industrial packaging, through building and transportation, including but not limited to automotive.
Who should attend (to be potentially extended):
Engineers, product developers and designers across B&C, automotive, railway and aerospace markets and applications
Engineers, product developers and designers seeking for lightweighting solutions
Stakeholders at companies seeking for innovation and new technologies
Biography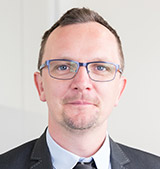 Tomasz Czarnecki, graduated in 2002 from the Technical University of Czestochowa, Poland, in Materials Engineering.
From 2003 to 2006 he was a researcher at the Composites Materials Group at the Catholic University Leuven in Belgium, with the focus on lightweight sandwich structures and polymer composite materials. At that time, amongst other activities, of which many were related to automotive composite solutions development, Tomasz was a member of the development team of the "first composite suitcase" launched by Samsonite in 2005 – Cosmolite.
In 2006 he joined EconCore where initially he initially took responsibilities for Materials and Applications Development.
Through his carrier at EconCore, Tomasz has been developing lightweight material solutions for packaging, automotive, transportation and B&C applications, working with leaders of the different market segments. Tomasz's projects include installation and commercialisation of the honeycomb sandwich technology at TATA STEEL, RENOLIT, Wabash National, and other larger and smaller size companies. Tomasz has been guiding them on processing as well as material related aspects and has been leading programs of optimisation of sandwich and composite design with regards to specific applications.
Tomasz took an active role in starting up of EconCore's daughter company ThermHex Waben, being today a leading manufacturer of PP honeycomb cores for the composites industry.
In 2011, Tomasz became Technology Manager at EconCore taking the lead on the company's sales and marketing. In 2016, he was nominated Chief Operations Officer. Today he is combining technical and commercial roles at the company and leading EconCore's licensing and technology development activities.
For more information about EconCore, visit www.EconCore.com