August 14, 2019 at 11:00AM–NOON EDT
Webinar via Zoom
FREE for SPE Members
Non-Members: $199
Summary
Session Introduction
Simulation is playing an increasingly important role in manufacturing. However, engineers still face challenges in bridging the gap between simulation and manufacturing. Join us for this webinar to learn how to maximize simulation utility with Moldex3D, where we integrate real-world conditions to more accurately take into account crucial information from the physical world, including considering the dynamic machine response of an injection molding machine, ensuring the optimized processing conditions obtained from simulations can be directly applied on the production floor.
What You Will Learn:
Understand the gaps between simulation and real-world manufacturing
How to capture real-world machine response
How to import real-world injection molding machine data into virtual simulations
How to maximize the value of uniting real-world data and virtual simulations
Who Should Attend?
Simulation analysts
Process engineers
Mold makers
Tooling engineers
Plastics professionals
About the Speaker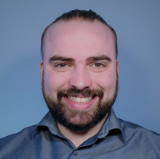 Chris Daly leads technical sales for Moldex3D in the Northeastern United States. He graduated from the Plastics Engineering program at UMass Lowell, and prior to joining Moldex, he was a process engineer in the dispensing, caps, and closures markets. Chris is also an instructor for Moldex3D software and guides users on how to achieve manufacturing improvements using simulation.