WEBINAR: Infusing Your Designs with Emotion
May 1, 2019 at 11:00AM-NOON EDT
Webinar via Zoom
FREE for SPE Members
Non-Members: $199
Summary
What makes a product successful? It's always a blend of both functional and emotional attributes that together create beauty in a product. Let's discuss these attributes and their proper application in the entire spectrum of the product design and development process. This webinar will focus on the forces influencing a product, including the ecosystem in which it exists, the unspoken needs and unarticulated desires of the end users, and the demands of the multiple stakeholders along the creative supply chain. Only with an understanding of all these elements can we determine what beauty means in a product and how it can solve the right problem beautifully.
Biography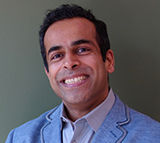 Jeevak Badve brings energy, passion & curiosity to his role as VP of Strategic Growth at Sundberg-Ferar, a full service Product Innovation Studio supporting the Product and Vehicle industries from its Metro Detroit location, since 1934. He helps companies to understand the fundamental role of Industrial Design Thinking: leveraging usefulness, usability, ergonomics & aesthetics as unique and compelling differentiators in your products to aid the sustainable growth of business, and planning for the entire range of use-case scenarios and designing for ideal user experiences. With his unique blend of education and experience in design, engineering and business he is a rallying voice for the alignment and optimal inclusion of end users' un-met needs, unspoken wants, and unarticulated desires in the core value proposition offered by the products & service portfolio, to generate sought-after shareholder value.
He has 23 years of work experience, 7 years in India (Tata Motors ERC, Tata-Johnson, Voltas M&H) and 16 years in the USA (GM Design Center, ASC and now SF studio).
.