August 27, 2020 at Noon–1:00pm EDT
Webinar via Zoom
Summary
Gel Permeation Chromatography (GPC) plays an essential role in determination of dispersity and molecular weight of polymers and complex molecules. Calibration is done using polymer solutions such as polystyrene in organic solvents, and uncertainties in preparation of the standard can often carry over to uncertain measurement results.
This webinar from Anton Paar will focus on how you can minimize uncertainty — and expensive errors - with a fast, highly-precise refractive index measurement. After the webinar, you will have a better understanding of how a refractometer can improve your chromatography.
Featured topics in this webinar will include:
GPC calibration process
The role played by dn/dc values
How a refractometer can improve the GPC calibration process
Requirements and the specifications your refractometer must meet
About Speaker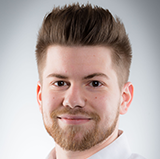 Tobias Husemann is the product management team leader for refractometers and polarimeters at Anton Paar. With an educational background in chemistry, he solves global industrial problems as a product and application developer. He is one of Anton Paar's top experts in polymer concentration and measurement.
This educational program is provided as a service of SPE. The views and opinions expressed on this or any SPE educational program are those of the Speaker(s) and/or the persons appearing with the Speaker(s) and do not necessarily reflect the views and opinions of Society of Plastics Engineers, Inc. (SPE) or its officials, employees or designees. To comment or to present an opposing or supporting opinion, please contact us at info@4SPE.org.